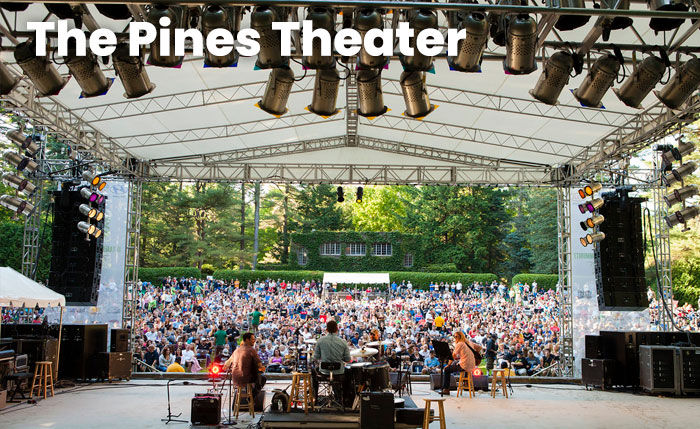 View upcoming shows at The Pines Theater at Look Park and purchase tickets HERE.
TICKETS
If the show is not sold out, limited tickets will be available at the gate day-of – although we recommend purchasing in advance.
Please direct any ticketing questions to info@dspshows.com or (607) 280-2900.
To expedite the entry process, please have your tickets ready upon arrival (pulled up on your phone or printed is fine, as long as we can scan a barcode). Your PDF tickets are attached to your confirmation email and are also available in your Tixr account or in the Tixr app.
COVID-19 ENTRY PROTOCOLS
Entry requirements are subject to change. By purchasing tickets to an event you have agreed to abide by entry requirements in effect at the time of the event. If there are any changes to entry requirements, ticket holders will be notified by email and updates will be posted at dspshows.com.
For most shows, the following entry protocols are in place:
Proof of Vaccination: Not required (may be required for some shows)
Proof of Negative COVID Test: Not required (may be required for some shows)
Face Coverings: Encouraged, but not required
PARKING
A $15 per car event parking fee (CASH ONLY) will be collected by Look Park at the entrance to the park.
Handicapped parking is available at the train station lot.
Bike rack will be available near the Pines Theater for those who bike to the show.
SEVERE WEATHER PROTOCOLS
The Pines Theater is an outdoor venue and our events are RAIN OR SHINE. Please plan for the weather. However, the safety of the artist, fans and staff comes first. If severe weather threatens the area, we will evacuate the premises until such a time when it is safe for the show to continue.
In the case of a weather-related evacuation we will make on-site announcements, contact ticket holders via email, and post on DSP Shows' social media accounts (follow us on Facebook, Twitter, and Instagram).
During an evacuation all showgoers will be asked to evacuate to their vehicles. We will provide further instructions for those who do not have a vehicle on-site.
Please note that we are required by law to evacuate if lightning strikes nearby, even if the storm has not yet touched down in the immediate vicinity and the weather appears to be clear.
FOOD AND BEVERAGE
No outside food or beverages will be allowed into the Pines. We encourage you to bring your empty refillable water bottles as a water station will be provided.
There will be many varieties of food and beverages for sale by local vendors including vegetarian and vegan options.
Beer and wine will be sold by Look Park.
No alcohol may be consumed by persons less than 21 years of age. Non-adherence will result in removal from the park. Look Park reserves the right to cut off alcohol service to any individual that appears to be intoxicated. This is at the discretion of the servers. Designated drivers are welcome and encouraged!
OTHER VENUE INFO
Our staff and volunteers are very friendly. Please do not hesitate to ask if you need help.
Please respect park property and staff. Anyone caught damaging property or buildings, or being abusive to any of our concert staff (volunteers included) will be removed from the property. There will be no exceptions to this.
Look Park is a non-smoking venue. No smoking is allowed anywhere in the park.
For General Admission standing room only shows: space is limited, please be mindful of your neighbors. We ask that you only bring a low back chair if you are unable to stand for long periods of time.
Re-entry to the Pines Theater concert area is not allowed.
No cameras or audio/video equipment permitted.
Please do not bring any weapons, explosives, glass, illegal drugs or illicit substances into Look Park.
No pets, except for service animals.
Only vendors licensed with Look Park and the City of Northampton are allowed to set up and sell at this event. No exceptions.