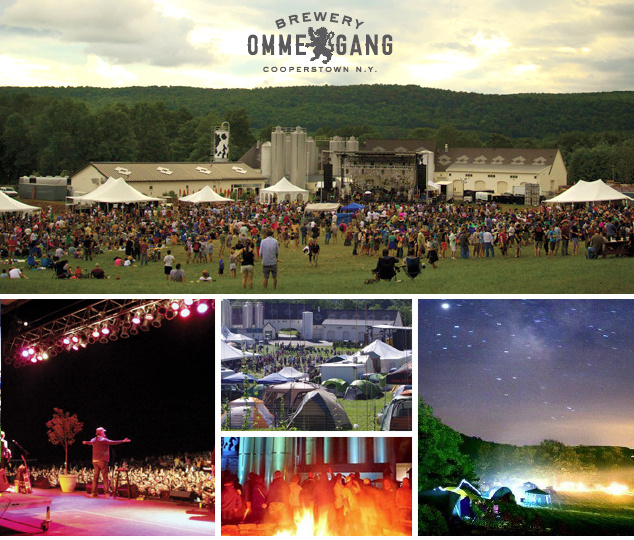 View upcoming Ommegang shows and purchase tickets HERE.
SCHEDULES
3:00pm – Parking lot opens
4:00pm – Camping area and box office open
5:00pm – Main gates open
7:00pm – Show starts
11:00am (next day) – Camping checkout
**Times are subject to change**
TICKETS
If the show is not sold out, limited tickets will be available at the gate day-of – although we recommend purchasing in advance.
Your tickets will be emailed to you, and are also available by logging in to Tixr HERE. To access your tickets, click the "print tickets" button to download or print the PDF. If you have an Apple device you can also access your tickets in the Tixr app.
Please direct any ticketing questions to Tixr: support@tixr.com.
To expedite entry, please have your tickets ready upon arrival (pulled up on your phone or printed is fine, as long as we can scan a barcode). Your PDF tickets will be attached to your confirmation email and are also available in your Tixr account or in the Tixr app. Please note that some artists request we delay ticket delivery (up until 72 hours before the show) to deter scalpers/ticket resellers.
PARKING
CARPOOLING IS RECOMMENDED AND ENCOURAGED AND WILL SPEED UP THE ENTRY AND EXIT PROCESS.
FREE parking is available at the Brewery Ommegang events lot, scheduled to open to the public at 3:00 pm.
ADA/Handicap parking is available on site, please notify a parking attendant upon your arrival.
Please do not park on the side of the road. It is private property and cars will be towed. There is no need to pay for parking and no satellite lots are being used. All parking is FREE and available at Brewery Ommegang.
RV's of any kind ARE NOT allowed in any event parking areas.
No tailgating will be permitted.
DO NOT park on the side of the road or walk to the brewery. Please stay in your vehicle while waiting to enter the parking area.
Taxi pickup at the end of the show will be run first-come, first-served (airport style). Any taxis called to Ommegang will pick up the next available riders in the taxi line.
CAMPING
Limited camping passes are still available for purchase on the same link you use to purchase show tickets.
Each individual must have their own camping pass. Camping passes DO NOT include tickets to the show, and show tickets DO NOT include camping passes.
The Camping Area is Scheduled To Open at 4:00 pm (Times are subject to change).
Camping is tent camping only. No RVS or vehicles of any kind are allowed in the camping area.
There is a separate camping box office and entrance at the far end of the parking lot. Camping check-in and will call will be at this entrance only. After the music starts, re-entry is available to campers through the camping entrance only.
You may bring outside food and non-alcoholic beverages into the camping area. Any non-approved items will be confiscated and disposed of. No glass containers.
Open flames are not allowed in the camping area or anywhere else on Ommegang's property (i.e. no charcoal or propane grills, no campfires).
Patrons without camping passes will not be allowed into the camping area under any circumstances.
Check out for camping is 11:00 am.
SEVERE WEATHER PROTOCOLS
Ommegang is an outdoor venue and our events are RAIN OR SHINE. Please plan for the weather. However, the safety of the artist, fans and staff comes first. If severe weather threatens the area, we will evacuate the premises until such a time when it is safe for the show to continue.
In the case of a weather-related evacuation: we will make on-site announcements and post on DSP Shows' social media accounts (follow us on Facebook, Twitter, and Instagram).
During an evacuation all showgoers will be asked to evacuate to their vehicles. We will provide further instructions for those who do not have a vehicle on-site.
Please note that we are required by law to evacuate the campus if lightning strikes nearby, even if the storm has not yet touched down in the immediate vicinity and the weather appears to be clear.
OTHER VENUE INFO
Our staff and volunteers are very friendly. Please do not hesitate to ask if you need help. Our security personnel is highly trained and there are EMTs on site for your assistance.
No re-entry except for attendees with camping passes.
There are ATMs on site.
ADA accessible restrooms are available in multiple locations at Brewery Ommegang.
Performers and Brewery Ommegang will be selling merchandise.
There will be many varieties of food for sale by Brewery Ommegang and additional independent vendors, available as soon as gates open.
There will be vegetarian, vegan and gluten-free food options.
No open flames.
No outside food or beverage is allowed in the concert area. These items are allowed in the camping area.
IDs will be checked upon entry and showgoers will be wristbanded accordingly (separate wristbands for those over and under the age of 21). Customers must show 21+ wristbands to purchase alcoholic beverages.
Our staff reserves the right to cut off alcohol service to any individual that appears to be intoxicated. This is at the discretion of the servers.
Please do not bring any weapons, explosives, glass, or illicit substances.
No aerosols are permitted (such as aerosol bug repellent or sunscreen).
No cameras or audio/video equipment permitted.
You may bring blankets, chairs, and umbrellas into the venue with you. These items may not be placed between the stage and the Front of House tent, as that section is standing area only.
Bags will be checked by security upon entry.
Pets are not permitted during concerts, only service animals will be allowed entry. Service animals are defined as dogs that are individually trained to do work or perform tasks for people with disabilities. "Emotional support animals", "comfort animals", and "therapy dogs" are not classified as service animals under Title II and Title III of the The Americans with Disabilities Act (ADA).

Please respect our property and staff. Anyone caught damaging property or buildings, or being abusive to any of our concert staff (volunteers included) will be removed from the property. There will be no exceptions to this.
Only vendors licensed with Brewery Ommegang and with NYS are allowed to set up and sell at Ommegang events. No exceptions.
The Brewery is closed to the public on concert days.