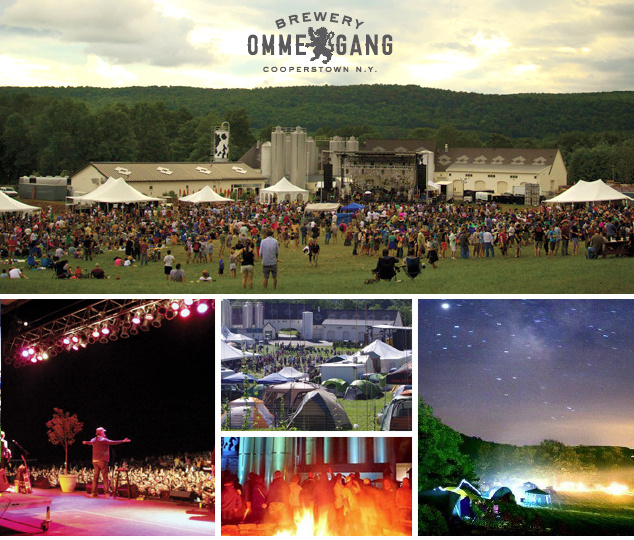 Ticketing questions should be directed to your place of purchase.
PARKING
CARPOOLING IS RECOMMENDED AND ENCOURAGED AND WILL SPEED UP THE ENTRY AND EXIT PROCESS.
FREE parking is available at the Brewery Ommegang events lot, scheduled to open to the public at 3:00 pm.
ADA/Handicap parking is available on site, please notify a parking attendant upon your arrival.
Please do not park on the side of the road. It is private property and cars will be towed. There is no need to pay for parking and no satellite lots are being used. All parking is FREE and available at Brewery Ommegang.
RV's of any kind ARE NOT allowed in any event parking areas.
DO NOT park on the side of the road or walk to the brewery. Please stay in your vehicle while waiting to enter the parking area.
CAMPING
The Camping Area is Scheduled To Open at 4:00 pm (Times are subject to change)
Camping is tent camping only. No vehicles of any kind are allowed in the camping area.
There is a separate camping entrance at the far end of the parking lot. Camping Check-In and Will Call will be at this entrance only. After the music starts re-entry is available to campers through the camping entrance only.
You may bring outside food and non-alcoholic beverages into the camping area. Any non-approved items will be confiscated and disposed of.
Open flames are not allowed in the camping area or anywhere else on Ommegang's property.
Patrons without camping passes will not be allowed into the camping area under any circumstances.
Check out for camping is 11:00 am.
VENUE
Our staff and volunteers are very friendly. Please do not hesitate to ask if you need help. Our security personnel is highly trained and there are EMTs on site for your assistance.
Brewery Ommegang is an outdoor venue and our events are RAIN OR SHINE. Please plan for the weather.
Re-entry to the Ommegang concert area is only for attendees with camping passes.
There are ATMs on site.
ADA accessible restrooms are available in multiple locations at Brewery Ommegang.
Performers and Brewery Ommegang will be selling merchandise.
There will be many varieties of food for sale by Brewery Ommegang and additional independent vendors, available as soon as gates open.
There will be vegetarian, vegan and gluten-free food options.
No Open Flames (i.e. no charcoal or propane grills, no campfires)
No outside food or beverage is allowed in the concert area. These items are allowed in the camping area.
No alcohol may be consumed by persons less than 21 years of age. Non-adherence will result in removal from event grounds.
No pets except certified assistance animals. Paperwork may be required.
Please do not bring any weapons, explosives, glass, or illicit substances into the concert area.
You may bring blankets, chairs, and umbrellas into the venue with you. These items may not be placed between the stage and the Front of House tent, as that section is standing area only.
Please respect our property and staff. Anyone caught damaging property or buildings, or being abusive to any of our concert staff (volunteers included) will be removed from the property. There will be no exceptions to this.
Our staff reserves the right to cut off alcohol service to any individual that appears to be intoxicated. This is at the discretion of the servers.
Only vendors licensed with Brewery Ommegang and with NYS are allowed to set up and sell at Ommegang events. No exceptions.
The brewery is closed to the public on concert days, and will re-open on June 8th.
ALCOHOL
Most importantly… when it comes to alcohol please know your limits. Brewery Ommegang beers are strong. Please drink in moderation, savor the flavor, and know when to stop.
We take underage drinking very seriously and anyone breaking the rules will be removed immediately.
And please… please DO NOT DRINK AND DRIVE. We would be happy to call anyone a taxi or even drive you home safely. We care about your safety and hope you will respect yourselves and others by having a designated driver to keep our roads safe.
Ommegang craft beer, soda, and water are available for purchase inside the venue.
Patrons may bring one sealed bottle of water per person into the venue.
Thank you for reading and please help us by recycling what you can, carrying out what you bring in, and in general respecting the venue, the staff, the bands, and each other! The brewery is set on some of the most beautiful lands in upstate New York. Please help us keep them that way!