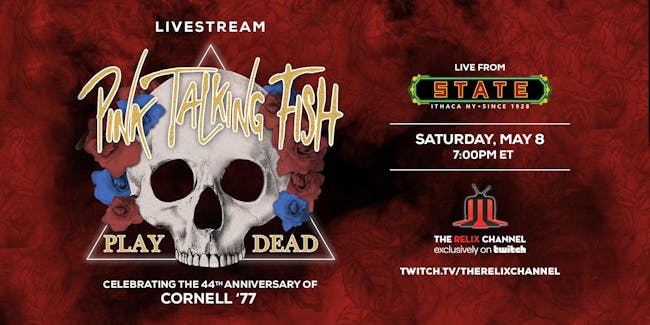 Pink Talking Fish Play DEAD: Celebrating The 44th Anniversary of Cornell '77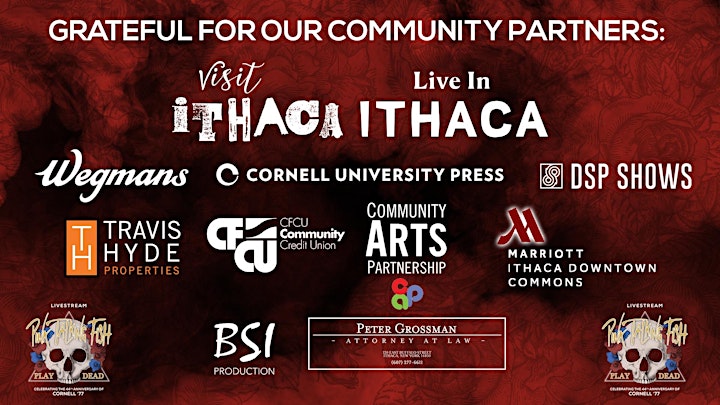 Music lovers and supporters of all kinds are invited to celebrate 5/8 at The State with "PINK TALKING FISH are DEAD", performed and streamed live from the historic State Theatre of Ithaca on Saturday May 8, 2021. The exceptional tribute jam band will perform the music of Pink Floyd, The Talking Head, Phish, and Grateful Dead tunes inspired by the treasured concert on Cornell's campus, exactly 44 years to the day of the original show. This year, The State Theatre of Ithaca will partner with Dayglo Ventures and Relix Magazine and will be streamed for free exclusively on The Relix Twitch Channel. Don't forget to follow The Relix Channel on Twitch so you don't miss a single livestream-->> www.twitch.tv/therelixchannel
On a snowy Mothers' Day in 1977, The Grateful Dead performed one of the most significant concerts of their extensive career at Barton Hall in Ithaca, New York. The Grateful Dead played more than 2,000 concerts, but none continue to spark interest and provoke discussion quite like the band's performance at Cornell University's Barton Hall on May 8, 1977. The show, known by most Deadheads as simply "5/8/77" is one of the most collected, circulated and debated concerts by any band ever, has topped numerous fan polls through the years, and was a favorite of the group's longtime archivist Dick Latvala, who stated: "Enough can't be said about this superb show." Even Uncle Sam got into the act in 2011 when the recording was "deemed so important to the history and culture of the United States" that a copy was added to the Library of Congress' National Recording Registry.
Pink Talking Fish is a Hybrid Tribute Fusion Act that takes the music from three of the world's most beloved bands and creates a special treat for fans of the music. Pink Floyd, Talking Heads and Phish are all more than just bands... they are Phenomenons. Their creations have artistically inspired people and their mind-blowing live performances have brought people together to form a special sense of community around the love for their favorite band. For one night only, PINK TALKING FISH will perform the music of Pink Floyd, The Talking Heads and Phish…and Grateful Dead tunes inspired by 5/8/77.
Since forming in 2013, Pink Talking Fish has played over 500 shows and has headlined numerous historic music venues throughout the country including The Capitol Theatre in Port Chester, NY, Irving Plaza in New York City, The Fox Theatre in Boulder, Colorado, The Great American Music Hall in San Francisco and The Vic Theatre in Chicago. Additionally, Pink Talking Fish has appeared at many prominent festivals including The Peach Music Festival, Jerry Jam, StrangeCreek Campout and The Buffalove Music Festival.
Now over 90 years old, the not-for-profit State Theatre of Ithaca depends on community support to host over 85 events a year including Rock and Roll Hall of Fame Performers, world-renown classical composers, hilarious comedians, community performances and classic films. The annual "Benefit My State" concert is the State Theatre of Ithaca's biggest fundraiser of the year. This event will also feature an online silent auction with over 25 unique, one-of-a-kind items offered to all viewers.
"The State Theatre of Ithaca is very excited to offer this event for free this year, thanks to many generous business sponsors. We are still in need of additional support to help us get through this very challenging year. The lack of shows due to COVID resulted in huge hurdles to overcome and we are not out of the clear yet." said Executive Director, Doug Levine. "We hope that the folks that are able to tune in and enjoy this show will consider making a donation to help sustain us until we are allowed to safely reopen."
Pink Talking Fish Play Dead will be streamed LIVE from The State Theatre of Ithaca for free at The Relix Twich Channel: https://www.twitch.tv/therelixchannel on Saturday, May 8th at 7pm. Donations are encouraged throughout the stream. In addition to Relix Magazine and Dayglo Ventures, local partners include: Visit Ithaca, Wegmans, Marriott Downtown On the Commons, CFCU Community Credit Union, Travis Hyde Properties, Cornell University Press, Community Arts Partnership, DSP Shows,Peter G. Grossman – Attorney at Law and BSI Production. ALL PROCEEDS for the 10th Annual "Benefit My State" concert directly support The State Theatre of Ithaca.
Looking for more info on the Iconic Cornell '77 show? Check out Peter Conners Book : Cornell '77: The Music, the Myth, and the Magnificence of the Grateful Dead's Concert at Barton Hall